Welcome to White Tree Crafts
Contemporary handmade jewellery
My name is Joanna Creek and I make unique artisan jewellery in my studio in the beautiful West Wales countryside.
Each piece is individually hand crafted using my own ceramic elements and handmade fabric beads with a variety of glass beads, chains, threads and cords.
I live and work in the Teifi Valley in Ceredigion, an unspoilt corner of Wales amidst green hills wooded valleys and the fantastic Cardigan Bay coastline. This scenic rural location inspires much of my work and provides creative nourishment.
I sell my work at craft fairs and exhibitions throughout Ceredigion and the neighbouring counties of Carmarthenshire and Pembrokeshire. I also supply a few local shops. I am not currently set up to sell from my website, but run a mail order service from my shop on Etsy, click HERE. If you like the look of anything in my gallery that isn't in my Etsy shop feel free to contact me, and if I have any similar items available I can upload them to the shop.
All my earrings have sterling silver ear wires or studs.
All my jewellery comes in a hand-stamped presentation box.
Commissions Undertaken:
Want a particular colour, style or size?
Need a custom gift or special occasion accessories?
I am happy to make to order, feel free to contact me to discuss your requirements.
White Tree Ceramics
All my ceramic jewellery is made and decorated entirely by hand. After forming my pendants, beads and brooches from fine white or terracotta clay, I imprint my design.
When dry, I carefully sand each item. I round off the corners to ensure that everything is super smooth to the touch. They then have their first firing. Next I paint them using under-glazes and/or oxides with a transparent glaze, or apply a coloured glaze, before firing again to earthenware. Being glazed all over they are smooth against the skin and very pleasant to handle.
Contact Details
---
Craft Fairs
---
to

The Bandstand, The Promenade, Aberystwyth

to
Easily found on the town's main street, the Corn Exchange Gallery is a light, attractive space. We will be filling it with our wares for the week. At least two makers will be looking after the show each day, and will be happy to answer any questions and talk about our work.

to

Alban Square, Aberaeron SA46 0AD
Shops
---
Galleries
---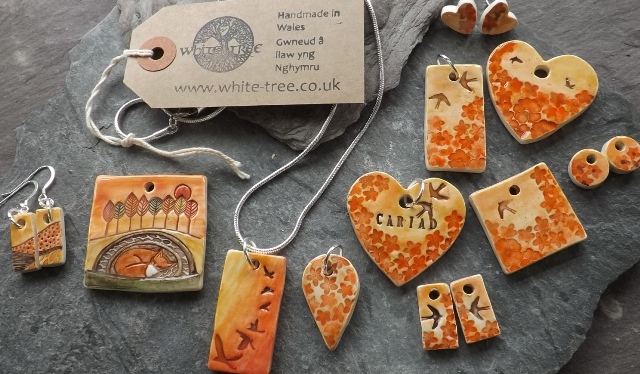 Ceramics
My range of ceramic pendants, brooches and focal beads are made and decorated entirely by hand. I use a variety of finishes including under-glazes and/or oxides with a transparent glaze, coloured glazes all fired to earthenware.
---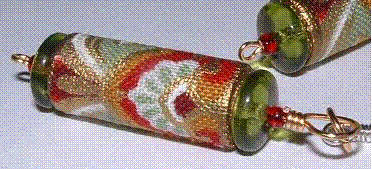 Fabric Beads
"Incredibly light - ideal for earrings" I hand make my fabric beads from my favourite scrumptuous fabrics. These are teamed up with glass and metals beads for necklaces, earrings and bracelets. The end result is a striking and varied range of very wearable pieces.
---
Beachcomber
A mix of hemp and leather cords, pale glass pearls, clear quartz and glass, Swarovski crystal and silver plated/coloured findings.
---
Polymers
Polymer clay is light, bright and easy to wear! All handmade in my own blended colours, I use these beads to create bold, modern pieces.
---